When you first time started your Linux journey after complete setup and you want to know which version you are using but you don't know how to check version in linux
I'm sharing one personal scenario I and my friend were discussing what Linux version and he asked me which version of Ubuntu you are using is it Long Term Support (LTS) or standard version that a moment I was not able to tell him because I don't how to check the version and he guided me how to check the version and enlighten mean the difference between LTS and standard.
I'll share with you how to check the version in Ubuntu using both Graphic User Interface and Command Line Interface.
How to check the Ubuntu version from Terminal?
There are many different commands that are available to check the version of the operating system.
We will use cat command to print version on terminal itself.
Command Line
1. Check Ubuntu version by using /etc/os-release .
This is the latest command file through which you can check Ubuntu versions. It will not work if the version is lower to 16.04.
You just need to pass this command into Ubuntu Terminals
$ cat /etc/os-release
Output
NAME="Pop!_OS"
VERSION="20.10"
ID=pop
ID_LIKE="ubuntu debian"
PRETTY_NAME="Pop!_OS 20.10"VERSION_ID="20.10"
HOME_URL="https://pop.system76.com"
SUPPORT_URL="https://support.system76.com"
BUG_REPORT_URL="https://github.com/pop-os/pop/issues"
PRIVACY_POLICY_URL="https://system76.com/privacy"
VERSION_CODENAME=groovy
UBUNTU_CODENAME=groovy
LOGO=distributor-logo-pop-os
2.Check Ubuntu version by using hostnamectl
You can even take leverage of hostnamectl to check Ubuntu distribution name and few more thing we can get from this command like Kernel Version and Architecture.
Command need to pass in terminal
$ hostnamectl
Output
 Static hostname: pop-os
         Icon name: computer-laptop
           Chassis: laptop
        Machine ID: dce24db64d955d1c17df15d35ef8d101
           Boot ID: 54dc1071baf14bbe9cd341b84f8de3b1
  Operating System: Pop!_OS 20.10
            Kernel: Linux 5.8.0-7625-generic
      Architecture: x86-64
3. Check Ubuntu version by using /etc/issue .
If above command didn't work most probably mean version is lower to 16.04. So,you can try this command to check Ubuntu version.
$ cat /etc/issue
Output which you will get on screen
Pop!_OS 20.10 \n \l
4. Check Ubuntu version by using lsb_release .
The lsb_release stand for Linux standard Base this command will work on all kind of distribution.
Pass this command to terminals and press enter
$ lsb_release -a 
Output will be like
No LSB modules are available.
Distributor ID:	Pop
Description:	Pop!_OS 20.10
Release:	20.10
Codename:	groovy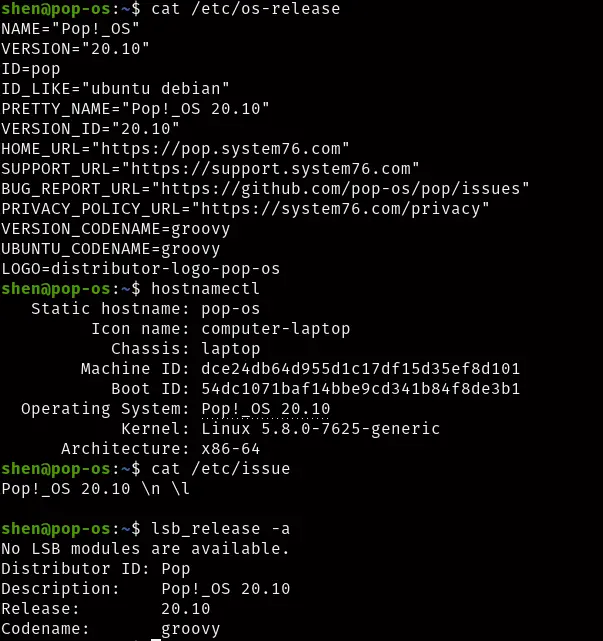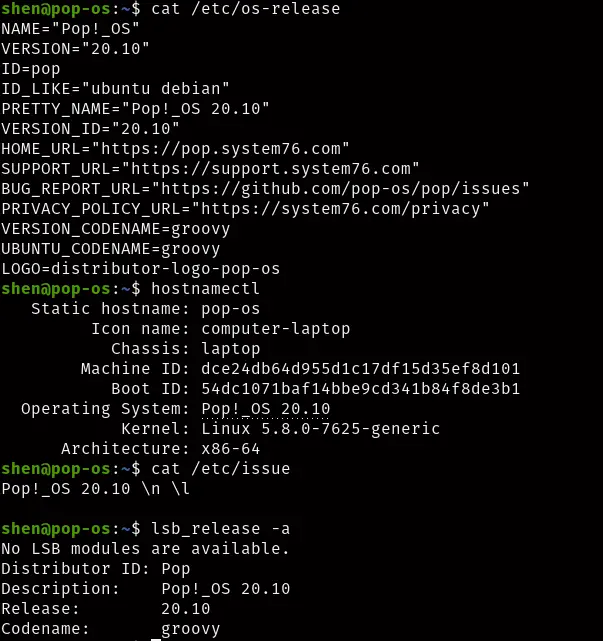 Graphical User Interface
If you want just want to check ubuntu distrbution you are just few click aways.
Three simple steps you require to know the version. There will some different step to check in different environments if you also having gnome has a desktop environment then the step will be the same.
Steps are as follows
Press the super key
Search for settings
In setting find Details
You will see all the details about your distribution
Conclusion
Through this way you can check the distribution details,like name,version,code name,Kernel Information.
If you guy's know some other way to check distribution version please comment so our reader and i'll get new way to find distribution info.
A man with a tech effusive, who has explored some of the amazing technology stuff and exploring more, While moving towards, I had a chance to work on Android Development, Linux, AWS, DevOps with several Open source tools.
One of my life mottos "Always be lifelong Students."