A XAMPP consist of (X) cross-platform software, (A) Apache,(M) MariaDB,(P) PHP and P (Perl).
In this guide, we will share with you how to install XAMPP on ubuntu 20.04. Follow the step.
Basic Requirement
Ubuntu 20.04 Focal Fossa
A user with sudo privileges
Access to a terminal/command line
The apt the tool, pre-loaded in Ubuntu and other Debian-based distros
Step 1: Download Package from Official Site
The first step is to download the package from the official site to download the package click on this link Download XAMPP package.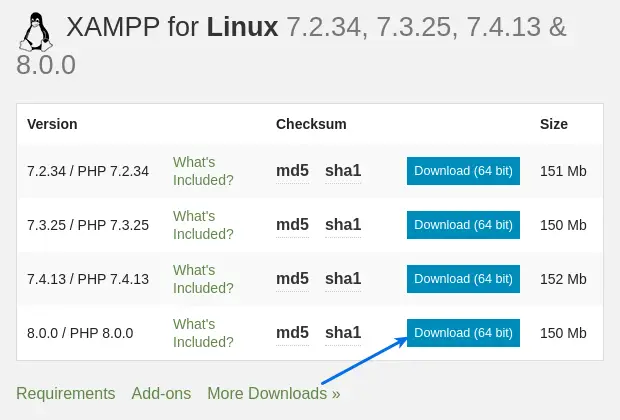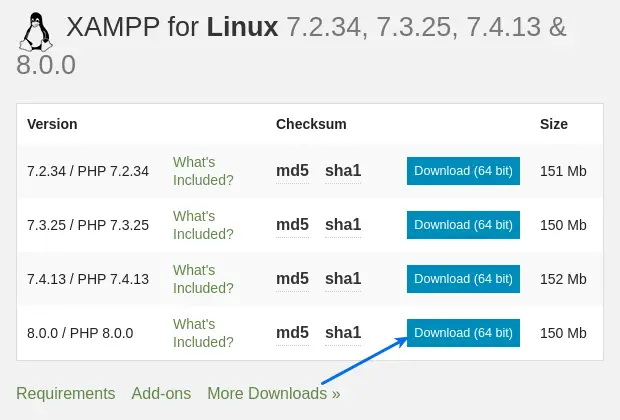 Go to the Linux Section,select 8.0.0/PHP 8.0.0 and click on Download button.
OR
If you want to download XAMPP from the terminal then pass this command and wait until the file gets downloaded.
$ wget https://www.apachefriends.org/xampp-files/8.0.0/xampp-linux-x64-8.0.0-2-installer.run
Step 2: Change Package Permission
In this step we will install the XAMPP package before that we need to change package permission, By Default, the package does not have executable permission so we need to give executable permission.


Steps to change permission
If you have followed the first step to download the XAMPP Package then go to the directory where the file is downloaded and right-click on file manager.
Now make XAMPP as executable file using a chmod command and check the whether permission is changed or not.
$ sudo chmod 755 xampp-linux-x64-8.0.0-2-installer.run 
$ ls - l xampp-linux-x64-8.0.0-2-installer.run 


Step 3: Run and Install XAMPP Package
After the making executable file now we will start the actual installation process for this pass the below command in the same terminal.
$ sudo ./xampp-linux-x64-8.0.0-2-installer.run 
First, you will see the bitnami splash image after that you will see XAMPP Setup Wizard and click on the Next Button.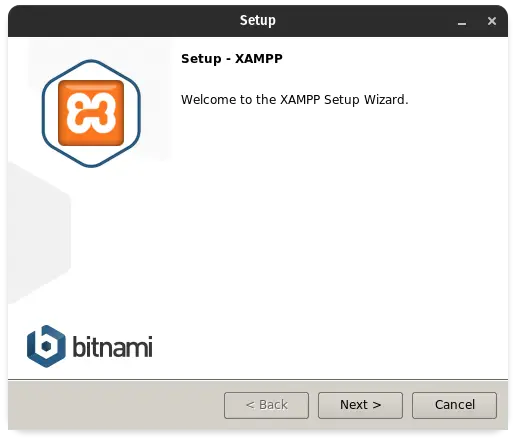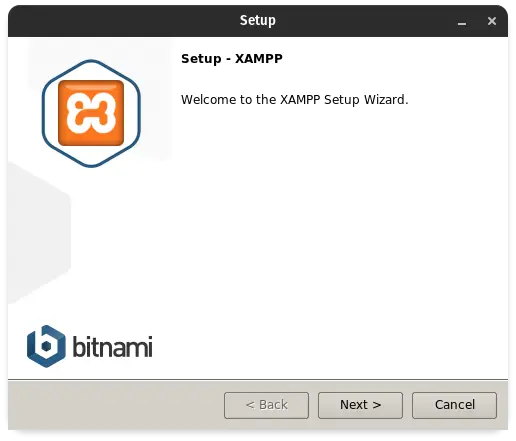 Keep all the options default and click on the Next button. If you want to uncheck XAMPP Developer files you can uncheck But my advice is not to change for a smooth process.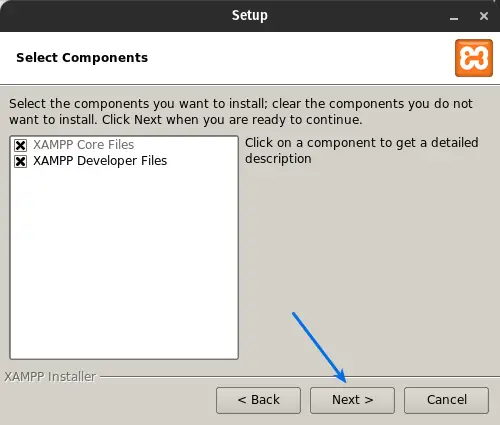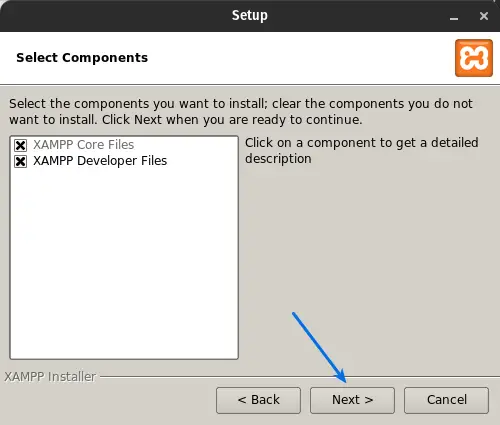 The next process will show you where the software package will get install. To proceed ahead click on Next.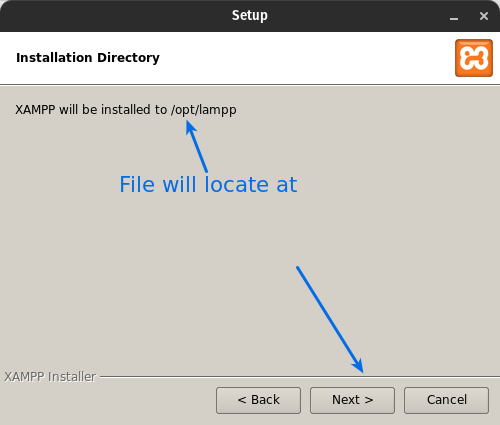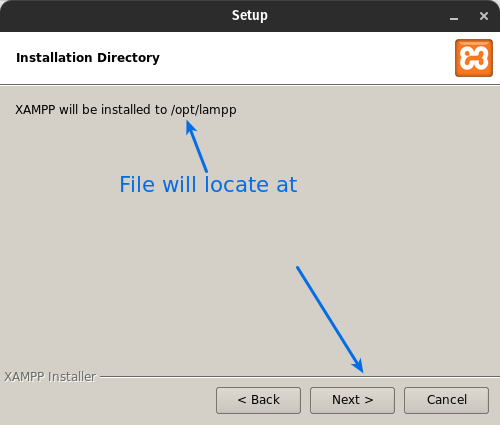 Now you will ask you to install featured applications such as WordPress, Drupal Joomla, and other CMS applications.
If you want to install this application you can but I'll not install so I'll Uncheck on Learn more about Bitnami for XAMPP and click on the Next button.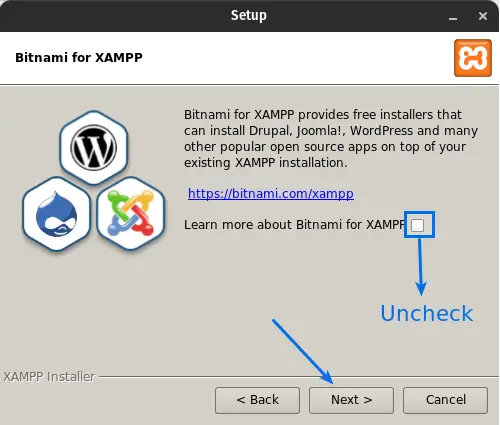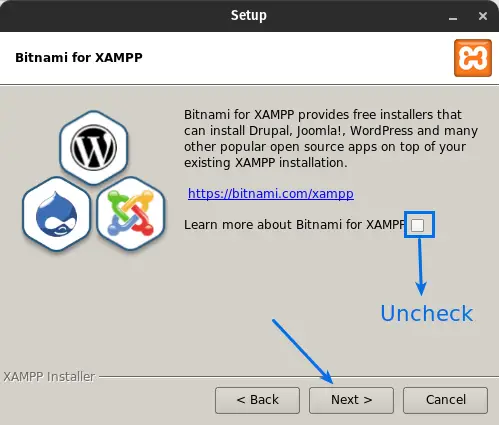 This is the final setup screen click on the next button for the rest installation process.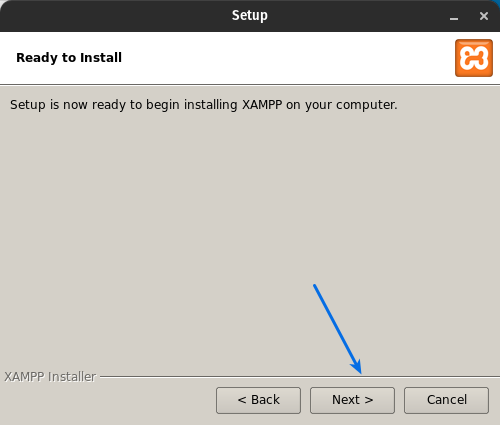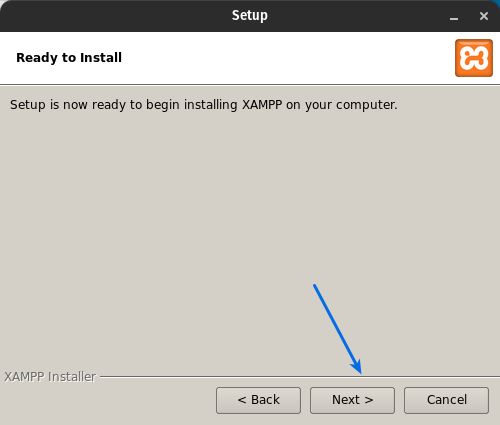 Wait for a few minutes to complete setup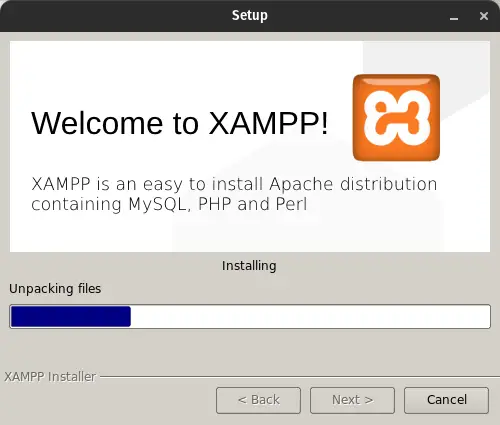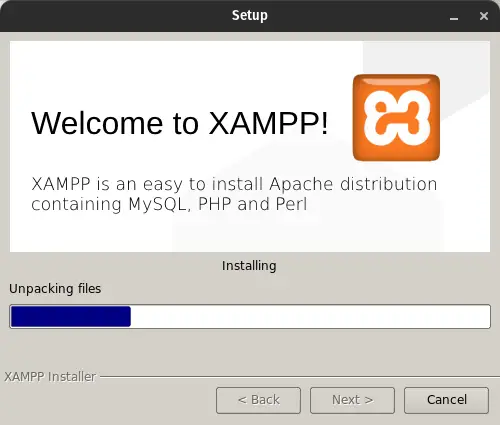 Read this :- How to Format USB Drive or Pendrive on Linux?
Finally installation is completed. Click on the Finish Button to Launch XAMPP Server.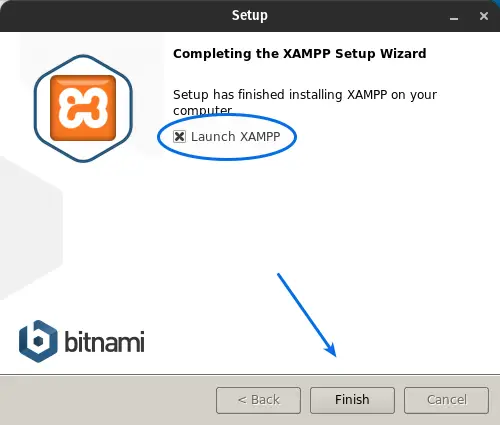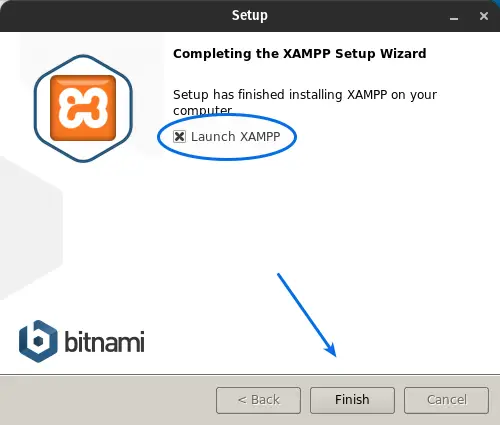 Step 4: Basic Configuration on XAMPP Server
In this step we will enable Apache Web Server,By default all the server are stopped manually you need to start all the servers.
In the below Image We have First Enable Apache Web Server then clicked on Start Button do all for the rest options.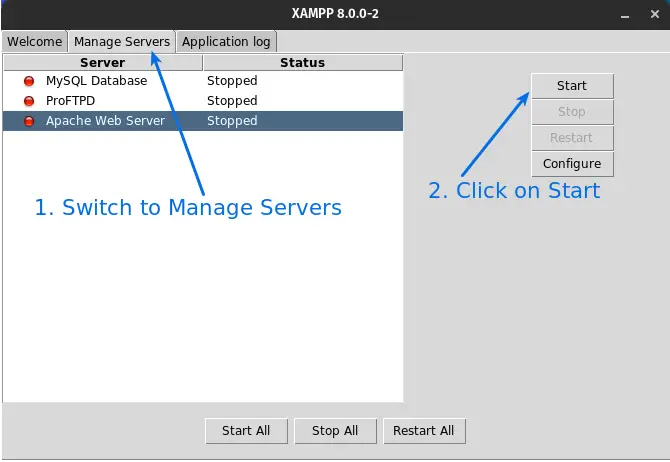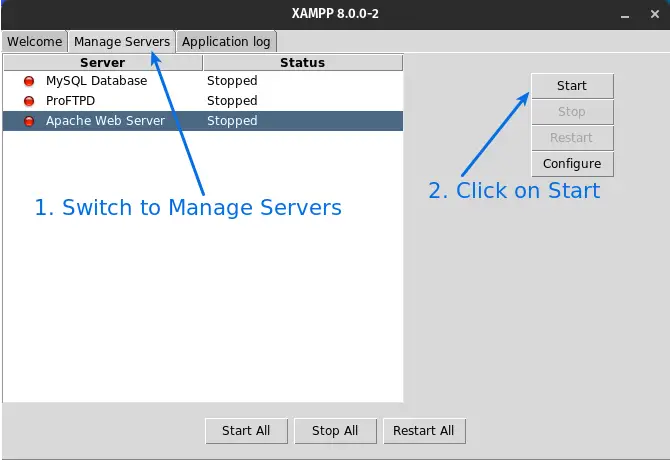 How to Uninstall XAMPP
From the above step you know how to install but you should also know how to uninstall XAMPP server too.
An uninstalling process is very simple you just need to pass few command and XAMPP is uninstall from your ubuntu system.
To Uninstall XAMPP server you need to open terminal and go to the installation directory /opt/lampp.
$ cd /opt/lampp
Next step is to pass series of command to uninstall completely.
$ sudo ./uninstall


To remove any left configuration file on /opt/lamp type command .
$ sudo rm –r /opt/lamp
I think so we are able to guide you to How to install and uninstall XAMPP server on Ubuntu 20.04 L.T.S.
If you are facing any issue while installing or configuration,Please comment Down below and we are ready to help you.
A man with a tech effusive, who has explored some of the amazing technology stuff and exploring more, While moving towards, I had a chance to work on Android Development, Linux, AWS, DevOps with several Open source tools.
One of my life mottos "Always be lifelong Students."