Microsoft Edge is a cross-platform web browser from Microsoft. It means you can install Microsoft Edge on a Linux machine. And I believe you are all aware of the Edge features. So I'll directly show you the steps to install Microsoft Edge on an Ubuntu or Debian-based machine.
Prerequisite
As you know, to install anything on your Linux system, you need sudo privileges, and it is the least required thing. If you are missing sudo privileges, then please read this guide to be a part of the sudo group.
Method to Install Microsoft Edge on Linux distributions
You can install Microsoft Edge in multiple ways, such as
1)

Official

.deb or .rpm packages for Ubuntu or Debian-based machines, or RedHat-based machines.
2) Conventional command line method to install Edge Browser
And we are covering both options for you.
Official .deb or .rpm package to install Microsoft Edge
This method is relatively similar to the Window Package Installer, and I believe it will be simpler for window-based users.
Download Microsoft Edge .deb or .rpm package
The first and foremost step is to download the Microsoft Edge package for respective distrubtion from the below link.
The above link will redirect you to the official page of Microsoft Edge, and the page will automatically detect your operating system. So, you just need to click on the respective package extension to start downloading.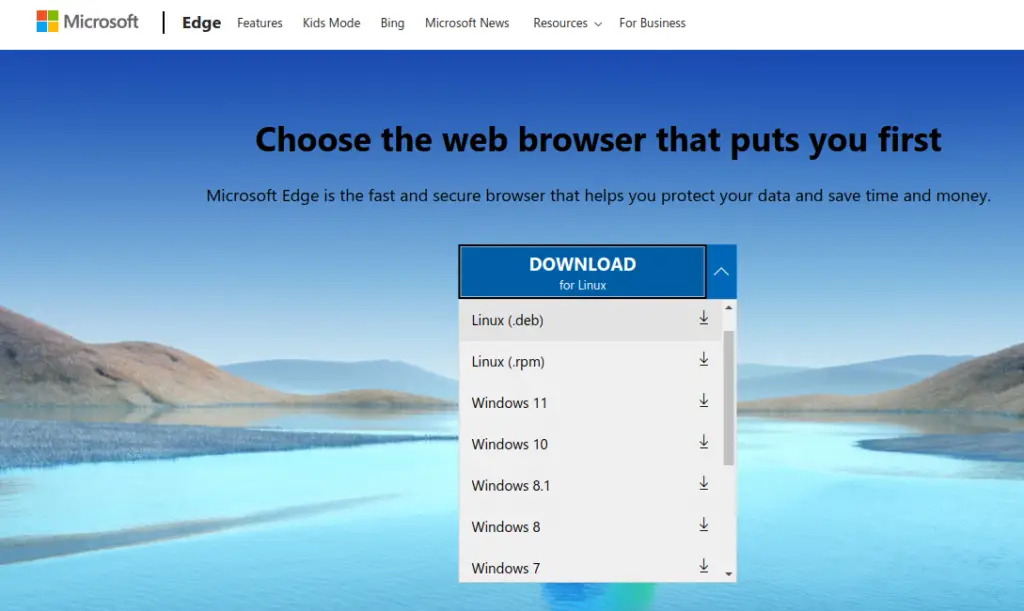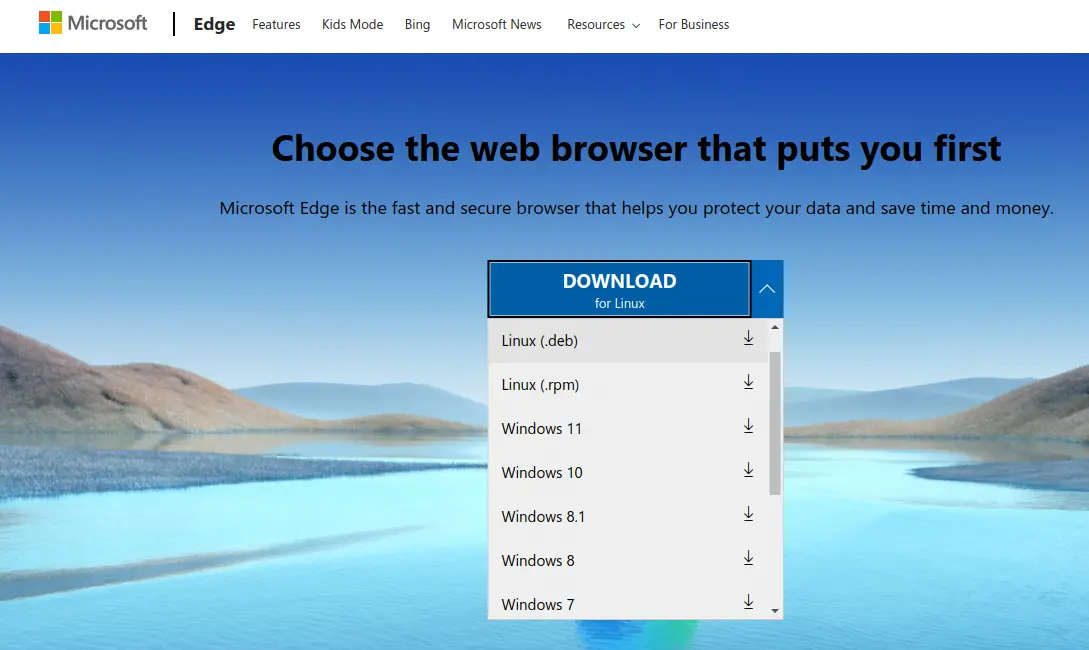 After that, you just need to click on "Accept and Download" to proceed ahead.
Install Microsoft .deb package
Once the download is finished, you can use four different ways to install any package on an Ubuntu or Debian-based machine, and you can use any one method to install it.
Every KDE or Gnome machine has a GUI package manager which is preinstalled to install.deb packages graphically without touching the terminal.
For that first, open your system file manager and go to the location where the Microsoft Edge package is available, double click or make a right-click, then click on "Open with" and choose "Discover" in the KDE desktop environment or any other package manager which is available on your system.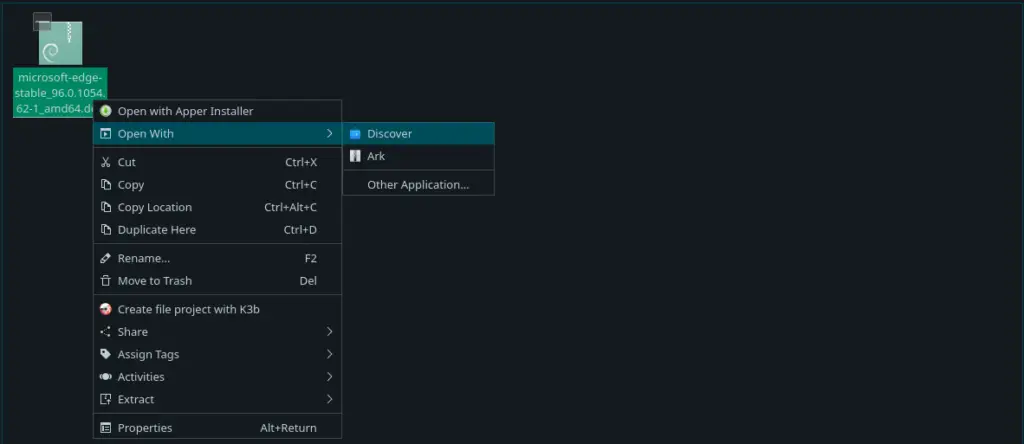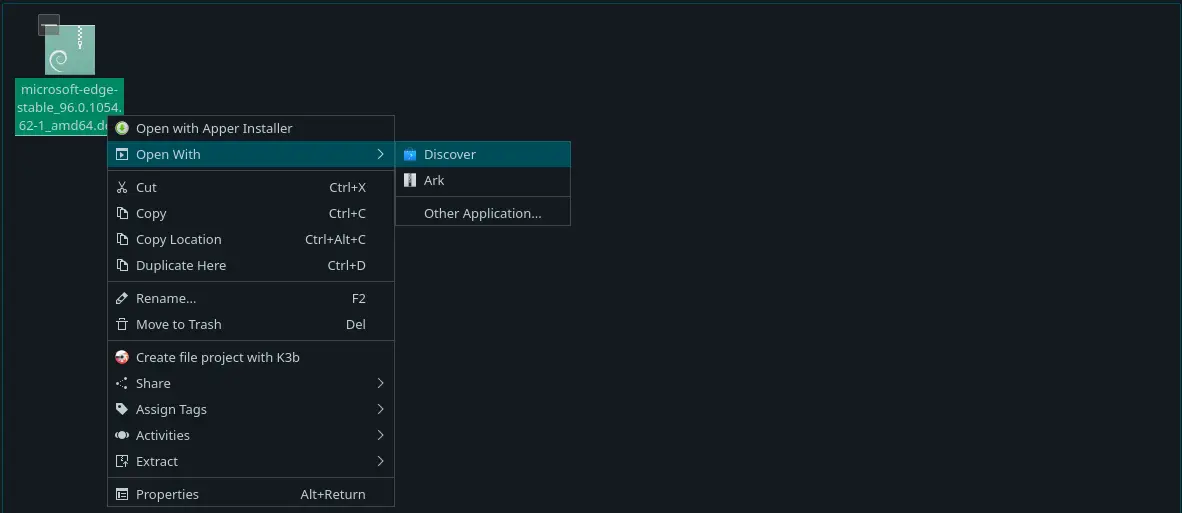 To launch Microsoft Edge Click on an App drawer and search for "Microsoft Edge" or "edge."
Command line method to install edge browser on Ubuntu
The command-line method is also pretty straightforward. You just need to run a couple of commands and that's it. Your application is installed. But before that, you should update a repository to fetch the latest version of Microsoft Edge.
$ sudo apt update && apt upgrade
Once the update is complete, you can run the following command and wait for a while to complete the procedure.
$ sudo apt install microsoft-edge-stable
You can run Microsoft Edge directly from the terminal by just typing: microsoft-edge.
Wrap up
That's all to run and install Microsoft Edge on your Ubuntu or Debian machine. And now you can experience Microsoft Edge on a Linux machine.
Let us know about your experience of using Microsoft Edge on a Linux machine.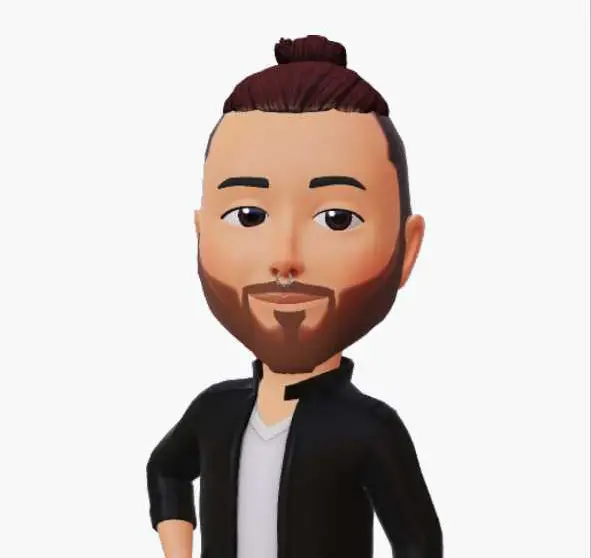 A man with a tech effusive who has explored some of the amazing technology stuff and is exploring more. While moving towards, I had a chance to work on Android development, Linux, AWS, and DevOps with several open-source tools.